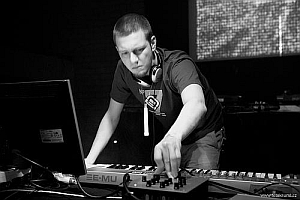 ---
BooT-SectoR-ViruZ is my main project, founded in 2001.
Originally the concept was more about speedcore and noisy breakbeats,
but I soon adapted more and more influences (e.g. breakcore and rhythmic noise) into it
and the project's style became a dark mashup of noise, beats and melodies.
Thus, B-S-V doesn't really fit into the conventional genres
but sees itself as a wide-ranged musical mix.
In 2006, B-S-V released the first official album 'Anti-Matter' on
Ambassador21's 'Invasion Wreck Chords'.
The second album 'BOOTY no BAKA!' was released as free MP3 download
on the (old) B-S-V website in March 2009.
After that, the three-way split 'Peacemakers Inc. Volume I',
released on Invasion Wreck Chords, featured a hand-full of new material.
Since then, it's been rather quiet… mainly because of studies and work.
But it won't be too long now before new stuff reaches your speakers.